Cannabis-Infused Basil Pesto with Pine Nuts
Loaded with fresh basil, garlic, pine nuts, and the show-stopper ingredient of the year, we're making Cannabis-Infused Basil Pesto with Pine Nuts!
I've been at home, in Canada, with my son who is in grade 7.
This means that not only do I have to share my work-space, I have to make sure he's eating, drinking water, and focusing on his at-home-schooling.
Needless to say, it's not been the easiest to prepare anything here, let alone weed edibles.
So I've taken to the quick and easy route, and so far it's really paid off.
How Do You Hide Edibles from Children?
There are plenty of locks, lockboxes and storage units out there but I use these food sticker labels and store my edibles in a brown paper bag!
No kid will look in there, and the cupboard they're most interested in is the magical snack cupboard.. at least in my home that's how it is.
How Do You Make Weed Edibles?
Get ready to meet your new best friend. Step aside BFF, Cannabutter is your new best bud!
Use it in all kinds of dishes from sweets to savoury.
And now, in easy-to-make sauces that can be used on bruschetta, pita's, or in pasta.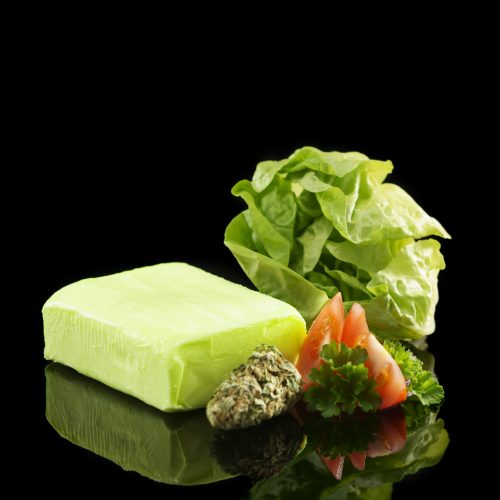 Servings: 1 Cup
Calories: 1628kcal
THC: 700-1400mg
Author: Steph Van De Ven
1/4 to 1/2

Ounce Cannabis

1

cup

Butter
Decarboxylate your weed by spreading your cannabis evenly on an oven tray And coat with aluminum foil.

Place in the oven on 240F/115C for 25 till 45 minutes, and then let it cool.

Grind your dry cannabis or chop it till fine.

Place the cannabis in a strong mason jar, add butter and (1 tsp of sunflower lecithin)(optional)

Place your closed jar in cold water and let it come to a boil, Boil for 2 to 3 hours.

Strain your butter through a cheesecloth.

Cool down

Now you can use the Cannabis Butter (Cannabutter)
If using a mason jar, be sure to start with cold water. Furthermore, it is imperative to let the water cool gradually so that your glass will not shatter.
The video guide might be slightly different than the blog recipe. The blog recipe is the most updated and accurate.
Calories: 1628kcal | Carbohydrates: 1g | Protein: 2g | Fat: 184g | Saturated Fat: 117g | Cholesterol: 488mg | Sodium: 1621mg | Potassium: 54mg | Sugar: 1g | Vitamin A: 5673IU | Calcium: 54mg
Cannabis-Infused Basil Pesto – The Recipe
When you create this yummy weed edibles recipe, you'll be saying PRESTO when you make this cannabis-infused pesto!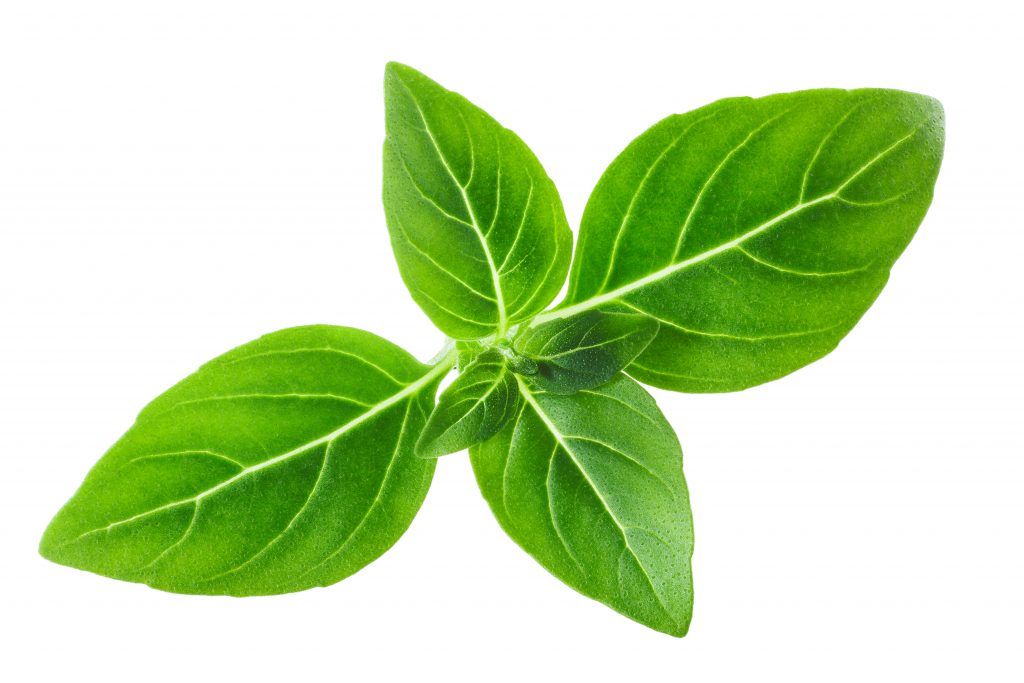 Cannabis-Infused Basil Pesto with Pine Nuts:
basil
garlic
olive oil
cannabutter
pine nuts
parmesan
All blended together within minutes, you'll have a delicious weed edible to snack on.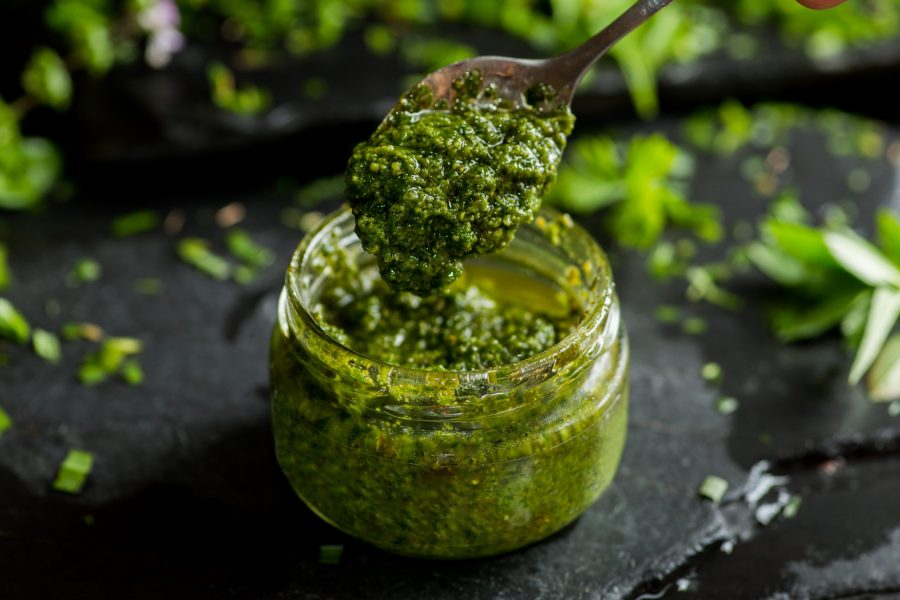 Servings: 4 people
Author: Steph Van De Ven
Cost: 15-20
Blender or Magic Bullet

Glass dish

Spatula

Cookie Sheet

Parchment Paper

Oven
1/2

cup

pine nuts

8

cups

basil leaves

fresh

3

large

cloves of garlic

peeled

1/4

tsp

red pepper flakes

more if you like it spicy

2

cups

parmesan cheese

fresh and freshly grated

1

tsp

lemon zest

grated

4

tbsp

Cannabutter

4

tbsp

regular olive oil

(more if needed)

1

tsp

each, salt and pepper
Preheat the oven to 325°. Place pine nuts on a baking sheet in a single layer and toast for 7 minutes. Stir the pine nuts and continue baking for 3-4 minutes or until lightly browned. Do not let the pine nuts burn. Set aside.

In a blender or food processor, combine the basil leaves and garlic. Pulse until finely chopped.

Add the red pepper flakes, parmesan cheese, pine nuts, cannabutter, and lemon zest. Turn the blender or processor on and slowly pour in the olive oil until it's incorporated. Add the salt and pepper and pulse to combine.

Add a little more olive oil if it's on the thick side, and you prefer it a little thinner. On the flip side, add less olive oil if you want it thicker.

Put ingredients in a glass bowl or in ice cube tray's if you want to freeze it and use it later.

Clean out the blender or bullet, and add in your pine nuts with a bit of olive oil and pulse until just a little bit blended, but still chunky.

Fold in half of the pine nuts into your pesto mixture gently, and then use the last bit to sprinkle on top.

Use on top of bruschetta bread, with pitas, on grilled cheese sandwiches or pasta.
For more authentic, tasty meal recipescheck out our recipes here.
If you're looking to up-level your chef status in the Cannabis kitchen, you'll want these professional kitchen tools.
Share your comments below with us and any variations to pesto that you love to make!