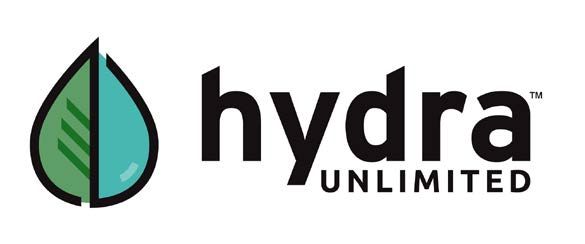 FOR IMMEDIATE RELEASE
Contact:
Sean Burnetter
Business Development Mgr.
(630) 699-6062
[email protected]
Lower maintenance, higher yields
Grand Rapids, Michigan – September 30, 2020: Hydra Unlimited, LLC, the innovator in deep water culture (DWC) systems, is proud to announce HydraMax. HydraMax is a unique hydroponics system meticulously designed to take your crop to the next level.
Deep Water Culture, commonly known as DWC, is a hydroponic process for plant production that entails suspending the plant's roots in a nutrient-rich solution of oxygenated water. HydraMax delivers water and nutrients to each plant quickly and evenly, resulting in healthier plants and higher yields. "Our 40-year experience in fluid management created an unparalleled opportunity to develop, manufacture, distribute and support an innovative hydroponic solution. We feel that the disruptive enhancements we have incorporated over traditional systems will generate considerable excitement in the hydro growing communities," said Todd Hart, President of Hydra Unlimited and Flow-Rite Controls.
All HydraMax systems include HydraFlex circulators. These circulators feature an easy, integrated drop in design and evenly feed and oxygenate each of your plants quickly and efficiently. One HydraFlex circulator is installed in each bucket and replaces the need for air stones and air pumps. Air stones can become clogged over time, are difficult to clean effectively, and are prone to bacteria. Air pumps, which can become hot, can affect the temperature of the water.
The HydraMax system features a unique, innovative, space-saving design, and there is no need for a reservoir – simply pour your solution into the dosing system, and all your plants get their nutrients all at the same time. "Our engineering team looked at numerous systems and talked to several growers about the issues they have with traditional systems. They consolidated this information and designed a truly innovative and easy-to-use solution, capable of exceeding prior yields," said Sean Burnetter, Business Development Manager of Hydra Unlimited.
Hydra Unlimited engineers have designed HydraMax to take the work out of cleaning with quick and easy assembly and reassembly with just a few snaps of our patented Qwik-Lok™ plumbing system. "I have been growing DWC for over 5 years now and have tried a lot of different systems over the years. Nothing comes close to this system's performance. In my opinion, it is pretty much the gold standard for any passionate hydro grower," said Dario, Beta Tester @intenselabs.
HydraMax is available in 4, 6, 12, 18, and 24 bucket systems. All HydraMax systems are shipped with TetraBase. TetraBase (patent-pending) is a reusable media that will anchor your plants without impacting your pH, nor introduce unwanted debris, pests or bacteria to your system.
About Hydra Unlimited
Hydra Unlimited designs, engineers, and manufactures innovative water management solutions for commercial hydroponic growing. We have combined over 40+ years of water management expertise to create the Deep Water Culture solution of your dreams. Each system is meticulously designed to be easy to use and maintain while increasing your yields. Hydra Unlimited, located in Michigan, USA, is passionate about giving you the best for all your plants.
For more information on Hydra Unlimited visit www.hydraunlimited.com, or call Sean Burnetter, Business Development Manager at 630.699.6062.
Follow Hydra Unlimited on:
Instagram: https://www.instagram.com/hydra_unlimited/
Facebook: https://www.facebook.com/Hydra-Unlimited-1995208177438342/
You Tube: https://www.youtube.com/channel/UC6lk6ZxkRtTOrTM5jO5YDIg
###
This is a paid post. Contact [email protected] for more information.