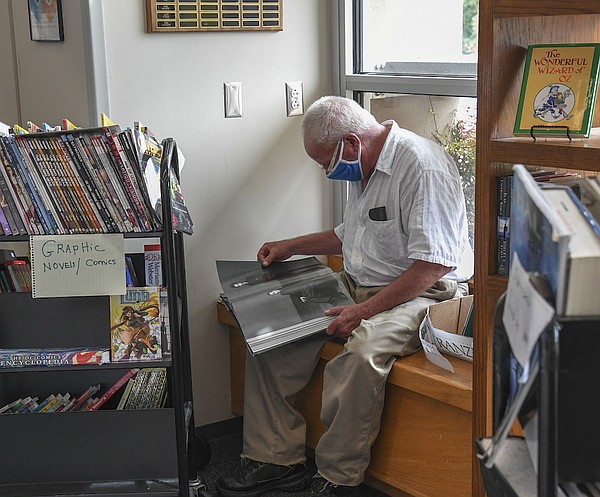 In observance of National Voter Registration Day, and with the broader goal of encouraging citizens to exercise their civic responsibility, the Garland County Library will host a virtual voter event at 6 p.m. Sept. 22.
The event will be held on Facebook Live, http://www.facebook.com/garlandcountylibrary, the library said in a news release.
"Featuring guest Gene Haley, chairman of the Garland County Election Commission, the presentation will discuss everything citizens need to know about registering and voting in Garland County," the release said. "Haley will also be available to answer audience questions from viewers who watch the stream live."
The recorded video will remain posted to the library's Facebook and YouTube pages after the live event.
With this being the first year the library is serving as a polling location, the library's Adult Services Programmer Paul Kagebein said they have been receiving a lot of questions about voting, so their goal is to help people get answers to questions they might have.
"There seems to be some confusion this year since there's a larger emphasis on mail-in voting and some people have had some questions about the deadline," Kagebein said. "(We're) looking forward to getting this information out there. … It's an election that a lot of people may have questions about as far as how to be able to vote, and voter accessibility, so getting that information out to the public is very important."
He added that anyone can vote in the county they are registered in.
Arkansas' 2020 voter registration deadline is Oct. 3. Voter registration and ballots can be checked at http://www.voterview.ar-nova.org/voterview.
"It's very important for everyone to have their voice heard," Kagebein said. "Every single vote counts, no matter where you stand or what you believe in."
According to the release, the virtual presentation featuring Haley will aim to address common voting questions.
"The library pledges to be a strong resource for the community in this year's election," the release said. "Voter registration forms are offered on-site, and the library will submit them to the county clerk's office on behalf of the voters for free.
"While there has been an emphasis on mail-in voting this year, the library remains committed to being an in-person voting location on Nov. 3, from 7:30 a.m. to 7:30 p.m. This is especially significant given that the Garland County Election Commission was forced to cut eight other voting centers from their lineup this year due to the COVID-19 pandemic."
The release also notes that extra safety precautions will be taken at the library's location to ensure that voters can socially distance and vote in a sanitized environment.